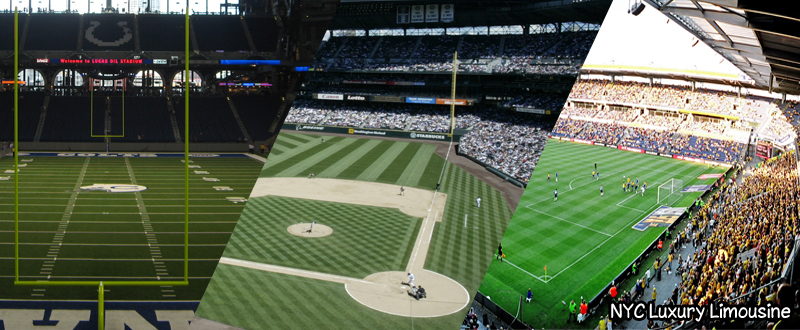 Sporting Event: Party Buses, Charter Bus, Limousines and SUV Limousines
Let's play ball, and take all our friends to the game.

Offering the best seats on the road, we can transport a fan group of up to 2,000 in one shot. So get your sports fans together and see your team to a win, win, win!!!
When reserving a sports party bus, sports limousine, sports suv limousine, or sports coach bus with NYC Luxury Limousine you allow us to get you to and from the arena safely, comfortably, and stylishly, with no need to worry about traffic, time, or where to park your vehicle. This leaves you free to sit back, enjoy, and root, root, root for your team.
Imagine a mega tailgating party organized by you with a sea of your favorite friends and fans. NYC Luxury Limousine can make it happen. All of our sports party buses, sports limousine buses, sports limo buses, and sports coach buses are equipped with ample storage compartments beneath or in the rear of the vehicles to accommodate most tailgating needs.
"Take me out to the ball game."
Baseball season is here, click here to check out the season schedule!
http://mlb.mlb.com/mlb/schedule/
Whatever your sport, wherever your favorite team… Let NYC Luxury Limousine get you there in style, comfort, and luxury. For more information on sports packages or to reserve your sports limousine, sports SUV limousine, sports party bus, or sports coach bus today.
CREDIT CARD AUTHORITATION FORM